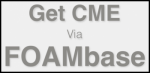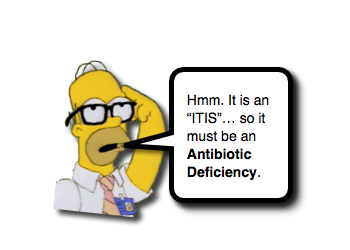 One of the great aspects of working in my ED is being surrounded by a multitude of amazing and brilliant teammates. One, Dr. Christyn Magill, recently provoked this Morsel of knowledge: just because it ends in "-itis" does not mean it needs antibiotics! Excellent point! We have covered this previously with Sinusitis, but another excellent example of this notion is Epididymitis!! Let us take a moment to review how Epididymitis in Children:
Acute Scrotal Pain
Acute scrotal pain is not uncommon in the Peds ED.
We have previously discussed some conditions that are related to scrotal pain:
The most common concerns, however, are:

Testicular Tumor
Acute Epididymitis
Acute Epididymitis in Children
Epididymitis is not rare in children.

Older literature described it as a rare condition, but newer research shows greater frequency of disease than previously known. [Nistal, 2016; Redshaw, 2014]
Majority of cases occur in prepubertal / early adolescent boys (11-14 years). [Redshaw, 2014; Santillanes, 2011]
Comprises up to 35-65% of all acute scrotal pain cases. [Nistal, 2016]
Epididymitis is often considered to be due to an infection.

Older males often have reflux of urine due to prostatic hypertrophy.
Young males (<35 years) often have an associated sexually transmitted disease.
What about the children who are not sexually active?

In young children, the INCIDENCE of infection is LOW. [Nistal, 2016; Santillanes, 2011]

Of ~1,500 patients with acute epididymitis, only ~15% had positive urine cultures. [Cristoforo, 2016]
Unfortunately, >85% still received antibiotics. [Cristoforo, 2016; Santillanes, 2011]
In the end, the majority are classified as idiopathic. [Redshaw, 2014; Min Joo, 2013]

True etiology is still not fully understood.
May be due to:

Inflammation from adjacent torsion of appendix of testis
Reflux of sterile urine
Viral illness (ex, Mumps, Coxsackie B, influenza, EBV)
Anatomic abnormalities (likely in younger patients)
Trauma
Epididymitis is usually a unilateral process. [Nistal, 2016]

The right side is affected more often.
Hydrocele is usually observed along with local symptoms of inflammation.
Epididymitis: Evaluation/Management
1st, don't overlook the potential for torsion as the etiology!

Distinguishing epididymitis from testicular torsion clinically can be difficult. [Redshaw, 2014]
Have low threshold for obtaining Ultrasound.
If history, exam, and U/S are consistent with epididymitis, consider the age:

Young boys who are not sexually active

Low risk for infectious etiology. [Cristoforo, 2016; Santillanes, 2011]

May wish to treat based on abnormal urinalysis.
Could also wait until Urine Culture results, as rates of true infections are slow low. [Cristoforo, 2016; Santillanes, 2011]

Treat with NSAIDs, scrotal support, and rest

Sexually active boys

At risk for STDs!
Consider testing and starting empiric therapy.
Also can use NSAIDs, scrotal support, and rest (and AVOIDING SEX!).
Moral of the Morsel
Don't overlook torsion! Think of epididymitis as the potential cause of acute scrotal pain in young boys, but check that ultrasound!
Just because it has "-itis" at the end of the word, does not mean it is an antibiotic deficiency!

There is an abundance of antibiotics given to boys with epididymitis who have a low risk for infection. Don't add to the problem. (see C. Difficile)
Check a Urine Culture (maybe even resist the urge to react to a urinalysis) and educate the family.
References