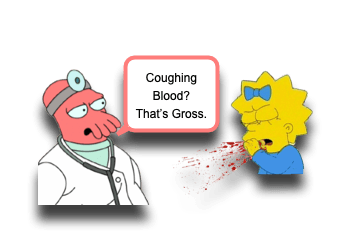 A child spewing bright red blood across the room will likely grab your attention, and potentially ruin your day. Fortunately, it is a rare event, but it is the life-threatening rare event that we must remain vigilant for! The post-tonsillectomy hemorrhage gets a lot of "publicity," but let's not overlook other reasons a child may turn into a hemorrhagic faucet. This week, let's review Hemoptysis in Children:
Hemoptysis: Basics
Hemoptysis = Coughing up blood or bloody sputum (the lungs are the source of bleeding)
Rare, but potentially life-threatening. [Simon, 2017]
Most often it is self-limited. [Naum, 2019]
The lungs have 2 separate blood supplies: [Singh, 2013]

Pulmonary Arteries – account for ~99% of blood supply; low pressure
Bronchial Arteries – provide blood to the airway structures; high pressure
The two systems are connected at the thin-walled anastomoses of the vasa vasorum.
"Grading" of hemoptysis:

Difficult to determine.
Not universally agreed upon. [Naum, 2019]

"Scant:" < 5 mL of blood loss
Mild-Moderate: 6 – 240 mL of blood loss
Massive: > 240 mL of blood loss or > 8mL/kg/Day; "You know it when you see it!"
Hemoptysis vs Hematemesis
Determining where the bleeding is coming from is often challenging.

Young children often swallow the expectorated blood before coughing it out. [Abu-Kishk, 2012]
Vomiting may also be associated with coughing episodes (post-tussive emesis) and vice versa.
Some potential distinguishing features:

pH:

Hemoptysis is typically alkaline
Hematemesis is often acidic

Color:

Hemoptysis tends to be pink or red
Hematemesis tends to be dark red or brown (if brisk , may be bright red)

Other Appearances:

Hemoptysis tends to be frothy; Hematemesis is usually not.
Hemoptysis often mixed with sputum; Hematemesis may have food particles
History Matters:

Since expectorated blood can be swallowed and then induce vomiting, and vomited blood can be trigger coughing too, how the material appears may be less than helpful.
Try to discern whether prior to the production of blood there was:

Nausea/vomiting – favors GI source
Cough/gagging/choking – favors pulmonary source
Past Medical History of lung or GI / hepatic pathology also helpful.
Hemoptysis: Possible Causes
Infectious (Pneumonia, Bronchitis, Lung Abscess) [Simon, 2017; Abu-Kishk, 2012]

The most common (~40%) cause of hemoptysis in children.

Pneumonia may be bacterial, viral, fungal, or parasitic.
Don't forget about tuberculosis.

Local Trauma (Aspirated Foreign Body, Pulmonary Contusion, Iatrogenic) [Singh, 2013; Abu-Kishk, 2012]

Foreign bodies can lead to direct trauma, but local inflammatory process caused by organic material can also cause bleeding.
Always take parental concerns for possible choking on object seriously!

Congenital Heart Disease [Simon, 2017; Singh, 2013; Abu-Kishk, 2012]

Hypoplasia of pulmonary artery/veins
Eisenmenger Syndrome

Vascular
Bronchiectasis [Singh, 2013; Abu-Kishk, 2012]

Particularly problematic in patients with Cystic Fibrosis.
May be from prior aspiration, prior infection, or ciliary dyskinesia.

Cancers [Simon, 2017; Abu-Kishk, 2012]

Fortunately, this is rare in children… but…
Bronchial Carcinoid and Bronchial Adenoma do occur. [Singh, 2013]

Idiopathic (~12% of cases) [Simon, 2017; Abu-Kishk, 2012]
Hemoptysis: Management
STABILIZE FIRST! ABCs as always!

Massive Hemoptysis will make videoscopic laryngoscopy very challenging (if not impossible – blood on camera lens makes visualization difficult)
Have lots of suctioning ready and in hand.
Have all options ready and in arms reach.
Use High PEEP once mechanically ventilated. [Naum, 2019]
Give PRBCs … consider Massive Transfusion Protocol… and TXA!
If stable now, (that your lucky stars) anticipate impending disaster! [Simon, 2017]

Obtain Labs:

Type and Cross
CBC with Diff
Coagulation Studies
Liver Function Tests (if concern for hepatic etiology of bleeding)

Obtain an Image:

Chest X-ray is the screening tool of choice. [Singh, 2013]

May show pneumonia (most common etiology), or mass.
May define affected side… if massive hemoptysis, place the affected side DOWN and oxygenate the good lung. [Naum, 2019]
May be normal… and will be in ~33% of cases.

Chest CT may be required, but only if patient stable and/or airway protected. [Simon, 2017]
Bronchoscopy will be the means to determine etiology if not determined by other modalities.
Moral of the Morsel
Remain vigilant! It is likely related to a pulmonary infection… but…
Check the pH! It may help distinguish between GI and Pulmonary source!
Check that CXR! It is the preferred screening tool and may show the cause!
Gravity Works! – Use it to your advantage. Place affected side DOWN so you can oxygenate the good side.
References