Ketamine and Propofol (Ketofol) for Pediatric Sedation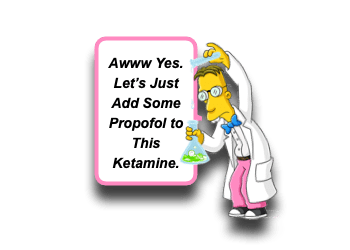 Keeping children comfortable benefits everyone! Patients have less pain and psychological trauma. Their families think you are amazing and… your procedure is easier to do when not also performing professional wrestling maneuvers. Honestly, a successful procedural sedation is one of the best things to do in the ED. It satisfies everyone… which makes for some good job satisfaction while you are driving home. On the other hand… a less than successful sedation is… well, not satisfying at all. Recently, my stellar Pediatric EM Fellows and I were discussing sedation practices. We spoke of Ketamine for pain and sedation and how it can be given via the nostril route! Nitrous was also discussed and how it is almost the perfect tool for the job — yet, many are still unfamiliar with it. Then we discussed the nearly omnipresent topic of "Ketofol." Even this old dog can learn a new trick I suppose… but do I need to? Let's look briefly at Ketamine and Propofol (Ketofol) for Pediatric Procedural Sedation:
Ketamine and Propofol: A Complementary Pair
Risks and benefits are constantly being weighed in medicine.
Selecting the "best" medicine for procedural sedation is even more challenging as we need to consider appropriate:

Analgesia
Anxiolysis
Anesthesia
Airway Protection
Cardiovascular Stability
Every medicine has potential negative aspects that must be accounted for while hoping to augment the benefits.
While we all LOVE ketamine and propofol, neither Ketamine nor Propofol are perfect.

Ketamine:

Pros:

Has analgesic, amnestic, and dissociative properties!
Relatively fast onset
Airway reflexes are maintained
Supports (and even augments) cardiovascular status

Cons:

Laryngospasm risk
Nausea / Vomiting
Emergence Reactions

Propofol:

Pros:

Rapid onset and with
Predictable recovery time
Antiemetic effects

Cons:

Cardiovascular depression / hypotension
Pain at sight of injection
Poor analgesia over all
Longer term use of Propofol can lead to other issues too (not what we are talking about here).
In theory, the combination of the two has potential benefits:

Reduced vomiting.
Avoidance of hypotension.
Improved pain control.
Reduced dosage of both medicines.
In practice, the co-administration of ketamine and propofol has been found:

To be safe and effective. [Miller, 2019; Weisz, 2017; Scherer, 2015; Canpolat, 2012; Shah, 2011; Andolfatto, 2010]

To lead to less vomiting. [Shah, 2011]
To have slightly faster recovery times (although perhaps not clinically noticeable). [Shah, 2011]
To lead to good satisfaction. [Andolfatto, 2010]
To have similar adverse event rates with Ketamine alone. [Weisz, 2017]
To lead to less propofol use. [Chiaretti, 2011]
Whether the clinical differences between Ketamine alone and ketofol are substantial enough to warrant the advocacy of ketofol over ketamine is likely to be based on provider experience and preference.
Ketofol: How to…
Two separately administered medicines. [Miller, 2019]

Ketamine (0.5 mg/kg) given first to mitigate pain from propofol injection.
Followed by propofol (0.5 mg/kg).
Additional titrated doses of propofol as required.
Single mixture of both medicine administered concurrently. [Miller, 2019]

Commonly referred to as "ketofol."
Mixture of ketamine and propofol within the same syringe.
Both ketamine and propofol have the same mg/ml concentration.
Typically used in a 1:1 ratio (same mg/kg dosage), although this is being investigated also.
Moral of the Morsel
Old dogs (like me) can learn new tricks. Sedation, though, shouldn't be deemed a trick. Always be vigilant and careful!
Ketofol may be the best of both worlds. Yet, it is also not perfect.
References