Pediatric Traumatic Glaucoma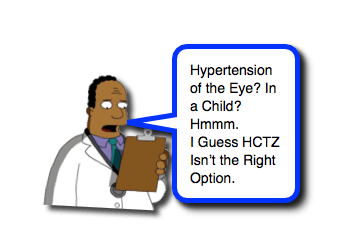 Eye complaints are commonly encountered when caring for kids in the ED. Often, they are due to a simple issue, like conjunctivitis (although even "simple" deserves vigilance – Conjunctivitis-Otitis-Syndrome), but there are other times when the "red eye" warrants greater concern. This is particularly true in the setting of trauma. We have considered some eye-related trauma before (ex, Hyphema, Eyelid Lacerations), but now let us look at another potential cause of eye pain after trauma – Traumatic Glaucoma:
Pediatric Glaucoma: Basics
Worldwide, glaucoma is the 2nd leading cause of vision loss in people of all ages. [Fung, 2013]
Glaucoma is rare in childhood, but it is not just an adult condition!

Incidence of childhood glaucoma found to be 2.29 per 100,000 people <20 years of age. [Aponte, 2010]
Similar to PE, cholelithiasis, and renal stones – not common, but not impossible.
Vigilance is required!
Glaucoma is characterized by:

Increased intraocular pressures
Optic disc cupping
Progressive visual field loss
Early detection is vital to prevent corneal damage, optic nerve damage, and amblyopia (AKA, vision loss). [Fung, 2013]
Childhood glaucoma leads to a significant economic burden. [Liu, 2016]
Pediatric Glaucoma: Classifications
Pediatric Glaucoma can be classified as Primary or Secondary.
Below is a basic and abridged list to consider: [Fung, 2013; Yeung, 2010]
Primary (Developmental):

Congenital causes

Don't worry… I won't torture you with this extensive list!
Obviously, patients tend to be younger at presentation (<2 years of age).

Associated with systemic disorders- examples:

Neurofibromatosis
Trisomy 13

Secondary (Acquired)

Trauma

In the US, this is the leading cause of 2ndary pediatric glaucoma. [Fung, 2013]
Typically older (10-15 years of age) and male (again… boys have issues with a high testosterone to grey matter ratio).
Hyphema is a significant risk factor for development of Glaucoma!
Penetrating trauma can lead to glaucoma also. [Girkin, 2005]
May develop over time… so needs to be monitored for after initial trauma.

Post-operative [Sahin, 2013]
Intraocular neoplasms
Lens related disorders (like dislocation)
Uveitis
Sturge-Weber syndrome is a notable cause
Pediatric Eye Injuries: Prevention
Eye injuries are common among our pediatric patients!
Sporting activities are often associated with these events. [Haavisto, 2016]
Other activities that are associated:
Ocular contusion is a leading diagnosis after trauma. [Haavisto, 2016]

Often requires prolonged follow-up for glaucoma monitoring.
Advocate for protective eyewear whenever possible! [Haavisto, 2016]
Moral of the Morsel
Kids might be smaller, but they still get big problems. Glaucoma does occur in children.
Check that pressure! Trauma is the leading cause of secondary glaucoma. Check that IOP (after your are sure it isn't an open globe!).
Keep an eye out for it even after discharge! Kids with a history of eye trauma deserve close outpatient follow up to ensure glaucoma has not developed.
An Ounce of Prevention… is much better than trying to fix a dysfunctional eye! Promote protective eyewear!!
References