Posterior Reversible Encephalopathy Syndrome in Children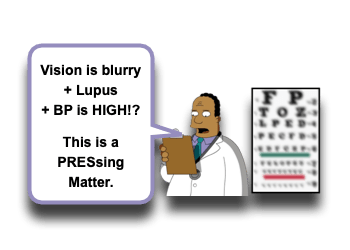 2020! What a great year to focus on good clinical vision! Obviously, in children, what we most often see is, fortunately, the benign conditions; however, it takes our vigilant vision to spot the unusual to help us avoid the life threatening. We have previously discussed some entities that can obscure a child's vision (ex, Glaucoma, Orbital Cellulitis, Facial Trauma, Multiple Sclerosis, Neonatal Conjunctivitis), but let us now focus on one that can affect their vision and can be easily hidden from our view if we are not attentive (did I take the 2020 vision theme too far? … too bad that wasn't one of my New Year's Resolutions) – Posterior Reversible Encephalopathy Syndrome:
Posterior Reversible Encephalopathy Syndrome (PRES)
Posterior Reversible Encephalopathy Syndrome (PRES) is rare, but does occur in children! [Ghali, 2019; Fisler, 2019]

True incidence is not really known.

Really has only been on the diagnostic radar since 1996…
Most recent estimates have incidence at 0.04% of all hospitalized children. [Thavamani, 2019]

It is more common in adults… but, children tend to have more multi-organ failure associated with it. [Habetz, 2016]
PRES is diagnosed based on Clinical Features AND Radiologic Findings and the eventual fact of it being Reversible. [Ghali, 2019; Fisler, 2019]
Clinical Features of PRES: [Ghali, 2019]

Blurred Vision / Change in Vision (ex, Diplopia) (~16% of cases)
Visual Field Deficits
Hemiparesis or Hemianesthesia
Ataxia, Tremor, Dysmetria, or Dysdiadochokinesia
Cranial Nerve abnormalities
Radiologic Findings of PRES: [Ghali, 2019; Gupta, 2016]

T2-weighted and FLAIR MRI sequences show Vasogenic Edema (regions of hyper-intensity).
Characteristically is a disease of the supratentorial posterior circulation – and the posterior cortex.

Has also been shown to affect the frontal and temporal regions.
Rarely affects posterior fossa.
Reversibility of PRES: [Ghali, 2019]

It is important to evaluate other competing conditions on the Ddx, as PRES is essentially defined once it improves… and the others may not improve.
Typically resolves WITHOUT lasting sequelae.

Complete resolution occurs in ~90% of cases.
Symptoms often resolve within first 48 hours of treatment.

Can RECUR! Those that have recurrence have greater risk for lasting morbidity.
PRES is associated with increased resource utilization and high risk for morbidity and mortality. [Thavamani, 2019; Fisler, 2019]
PRES Proposed Pathophysiology
There is yet to be a complete understanding of the pathophysiologic process responsible for PRES, but several theories are based on the following: [Ghali, 2019]
Disruption of the cerebrovascular auto-regulation resulting in Vasogenic Edema, Hypoperfusion, and Ischemia. [Ghali, 2019]
Often involves some combination of the following: [Ghali, 2019]

Hypertension (may be cause of or consequence of)
Vasoconstriction
Endothelial dysfunction from:

Hypertension
Direct chemotherapeutic endothelial cytoxicity
Other causes of increased endothelial permeability
Posterior circulations seem to be most at risk, due to lower protective factors against dysregulation of auto-regulation.
Conditions that can lead to or exacerbate these conditions can contribute to the development of PRES. [Ghali, 2019]
PRES Risk Factors
Known to occur in patients with conditions that increase risk for endothelial dysfunction.
Leading associated conditions are: [Thavamani, 2019; Darwish, 2019; Fisler, 2019; Navarro, 2018; Nasri, 2016]

Renal Insufficiency (highest risk factor)
Hypertension
Malignancies (particularly Leukemia)
Cytotoxic medications
Immunosuppressant medications
Solid Organ Transplantation
Bone Marrow Transplantation
Connective Tissue Disorders (ex, Lupus, Scleroderma)

Primary Immunodeficiency
Blood Transfusion
Severe Sepsis
Hypomagnesemia
Anemia
PRES Management
The primary management of PRES is supportive care. [Ghali, 2019]
Stop offending agents!
Antihypertensive therapy
Antiepileptic therapy

Valproic Acid and Clonazepam are preferred.
Phenytoin, carbamazepine, and Phenobarbital should be avoided.
Therapy continued for 3-12 months for seizure prophylaxis… longer if EEG is abnormal.
Moral of the Morsel
Altered Mental Status has a wide Ddx! Keep PRES on it!
Cancer therapy and altered mental status? Think PRES!
Renal Disease and altered mental status or headache? Think PRES!
Autoimmune disorder and change in vision? Think PRES!
References