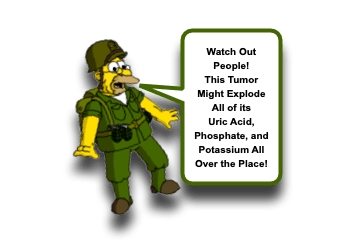 The lysis of tumor cells is one of the goals of successful treatment of cancer. Unfortunately, "Cancer SUCKS!" and even when the tumor is being positively affected, it can still unleash havoc. Oncologic processes are associated with a variety of emergencies (ex, Neutropenic Fever, Typhlitis, Central Lines, and Pulmonary Embolism), but one that deserves special attention may lead to very dramatic presentations! Let's take a minute to review Tumor Lysis Syndrome:
Tumor Lysis Syndrome: Basics
Tumor Lysis Syndrome (TLS) is an oncologic emergency!

Despite best efforts, TLS can occur even when preventative measures are taken. [Naeem, 2019]

TLS can occur spontaneously in highly aggressive tumors. [Naeem, 2019]
Children tend to be at greater risk for TLS: [Tazi, 2011]

More likely to suffer from higher-risk malignancies.
Lymphomas and leukemias have high tumor burdens and are highly proliferative.
Due to the Spontaneous or Treatment-Associated destruction of tumor cells. [Naeem, 2019; Tazi, 2011; Zonfrillo, 2009]

Tumor lysis leads to:

HYPERkalemia

Most life-threatening consequence
May result in mild symptoms (ex, cramps, weakness, fatigue, nausea, vomiting, irritability) or overt dysrhythmias or death.

HYPERphosphatemia

Worsened by renal insufficiency.
Leads to lethargy, nausea, vomiting, diarrhea, and seizures!
Phosphate + Calcium precipitation leads to renal failure.

HYPERuricemia

High cellular turnover produce lots of purine nucleic acids (DNA is being broken down).
Nucleic acid metabolism leads to excess uric acid accumulation.
Results in nephropathy, which is worsened by concomitant dehydration and nephrotoxic medications.

HYPOcalcemia

Due to calcium combining with excess phosphate.
Leads to cramps, tetany, prolonged QT interval, seizures, or dysrhythmias.

Lymphoblasts actually contain 4 times the amount of phosphate compared to normal lymphocytes! [Zonfrillo, 2009]
Laboratory vs Clinical Tumor Lysis Syndrome [Rajendran, 2013; Tazi, 2011; Zonfrillo, 2009]

Laboratory TLS is more commonly encountered than Clinical TLS. [Naeem, 2019]

Laboratory TLS = 2 or more of the following

K+: >/= 6.0 mEq/L or 25% INcrease from baseline
Phos: >/= 6.5 mg/dL or 25% INcrease from baseline
Uric Acid: >/= 8.0 mg/dL or 25% INcrease from baseline
Ca+: </= 7.0 mg/dL or 25% DEcrease from baseline
ionized Ca+: <1.12

Clinical TLS = presence of Laboratory TLS and on of the following:

Acute Renal Insufficiency/Failure – Creatinine 1.5 times or more upper limit for age, oliguria
Seizure
Cardiac Dysrhythmia
Cardiac Arrest
Sudden Death
Tumor Lysis Syndrome: Risk Factors
Tumor Characteristics [Rajendran, 2013]

Malignancies prone to have rapid lysis

Acute Leukemia, especially with high total lymphocyte counts (>1,000,000/microL)
Non-Hodgkin's Lymphomas (ex. Burkitt's)

Large tumor burden

Bone marrow involvement
Hyperleucocytosis
Extramedullary disease (ex, massive splenomegaly)
Host Characteristics [Rajendran, 2013]

Small children with large tumors
Clinical dehydration (accentuates renal impairment)
Associated Risk Factors [Rajendran, 2013]

Nephrotoxic medications (ex, vancomycin)
Tumor infiltration of the kidney or obstructing the ureters
Highly effective therapies (ex, Rituximab destroys non-Hodgkin cells avidly)
Tumor Lysis Syndrome: Management
High Index of Suspicion is required!

Can occur SPONTANEOUSLY (prior to chemotherapy)! [Tazi, 2011]

Have a low threshold for considering and testing!
EARLY IDENTIFICATION IS IMPERATIVE [Rajendran, 2013; Tazi, 2011]
Check:

Chemistry Panel
Uric Acid
Lactate Dehydrogenase (LDH) Level
Urinalysis
CBC w/ Diff
ECG
Treatment considerations: [Rajendran, 2013]

Hyper-hydration

This is imperative to both help prevent TLS and treat it!
Fluids often titrated to keep urine output >2 mL/kg/hr.
Obvious care to prevent volume overload must be taken.

Electrolyte Derangement Management

Calcium gluconate (2 mL/kg of 10%) to stabilize cardiac membranes.
Insulin and Glucose to help shift K+ intracellular.

If producing urine, Furosemide can help augment K+ excretion once urine output is adequate.

Oral phosphate binders – aluminum hydroxide or calcium carbonate.
Allopurinol or Rasburicase for hyperuricemia.

Allopurinol (10 mg/kg/Day divided q8 hrs) often used as a preventative measure.
Rasburicase (recombinant urate oxidase) can reduce need for hemodialysis.
Often a single dose of Rasburicase (0.20 mg/kg IV) is sufficient (which is good, because it is expensive). [Rajendran, 2013]

Urine Alkalinization is controversial!

Hemodialysis

May be required for Clinical TLS
Moral of the Morsel
Cancer Sucks! For many reasons.
Tumor Lysis Syndrome can be subtle at first. May have symptoms similar to those caused by cancer therapies (ex, nausea, vomiting).
Don't overlook the potential for Tumor Lysis Syndrome! Have a low index of suspicion as early detection and therapy can avoid disaster… even in children just diagnosed!
Treat aggressively! Give fluids, calcium, phosphate binders, and Rasburicase.
References