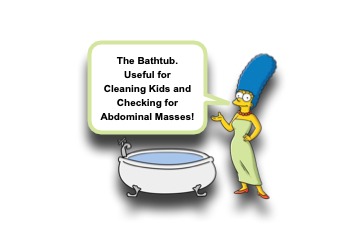 Despite being able to ignore many odd occurrences in the house, there are several things that will classically attract acute attention from a parent: fever; a child "not eating;" not pooping for a day; lumps and bumps; and rashes. The bathtub happens to be a common environment that the last two are first detected. Historically, physicians even used "bathtubs" to feel for intra-abdominal masses. Let us take a minute to review a significant abdominal mass that a parent may first detect with the assistance of bath time – Wilms' Tumor:
Wilms' Tumor: Basics
Wilms' Tumor (nephroblastoma) is common! [Servaes, 2019; Szychot, 2014]

It affects 1 in 10,000 children!
Accounts for ~5% of ALL childhood cancers.
Accounts for ~80% of all pediatric renal tumors.
Most commonly encountered in younger children. [Servaes, 2019; Szychot, 2014]

95% of cases occur in children < 10 years of age.
Vast majority diagnosed before age of 5.

It can rarely, however, occur in older patients and adults.
A predisposing genetic syndrome is associated with ~5% of Wilms' Tumor patients: [Szychot, 2014]

Several well defined genes play a role in Wilms' Tumor like:

These can be found concurrently in other genetic syndromes:

WAGR syndrome (Wilms' tumor, Aniridia, Genitourinary (GU) abnormalities, and mental Retardation)
Beckwith-Wiedemann syndrome
Denys-Drash syndrome – GU abnormalities, and nephropathy, hypertension
Frasier syndrome – Focal glomerular sclerosis, kidney failure, and gonadal dygenesis
Simpson-Golabi-Behmel syndrome

Children with genetic syndromes linked to Wilms' tumor are screened routinely during your childhood.
Overall survival is > 90%! [Servaes, 2019]

Unfavorable characteristics include:

Unfavorable histology and molecular markers
Bilateral disease
Relapse

Classification plays a role in management and prognosis.

Classification differ between Children's Oncology Group (COG) and International Society of Pediatric Oncology (SIOP).
Management decisions (ex, immediate nephrectomy vs pre-surgical chemotherapy) also differ between the groups, but outcomes are similar.
Wilms' Tumor: Presentations
The majority of patients will present with an "asymptomatic abdominal mass." [Szychot, 2014; Erginel, 2014]

Often described by parents as being found during bathing.
Also noted as a protuberant abdomen at times.
Mass is typically firm.
~20-30% will complain of abdominal pain. [Szychot, 2014]

The tumor itself can cause mass effect on other adjacent structures.
Tumor may not, itself, be tender on palpation.
Other findings: [Szychot, 2014]

Hypertension

Found in ~25% of cases.
Usually resolves after nephrectomy.
Can be associated with other genetic syndromes (ex, Denys-Drash syndrome)
Tumors may also present in ExtraRenal sites [Rojas, 2013]

Many case reports of Wilms' occur outside of the kidney with no kidney involvement.
Can be found in:

Bladder
Inguinal area
Vagina
Ovary
Lumbar paraspinal area
Coccyx
Retroperitoneum
Presentations may also be of known complications: [Szychot, 2014]

Uncommon (<10% of cases), but can be severe.
Acute Abdomen

Rapid tumor enlargement
Anemia
Hypertension
Fever
May have associated tumor rupture

Tumor Extension into adjacent vascular structures.

~11% of cases involve vascular extension.
Thrombus also can occur – ~4%
Renal Vein and Inferior Vena Cava involved.
May lead to:
Late Effects / Complications [Servaes, 2019; Szychot, 2014]

The "cost of cure" can be high in survivors of Wilms' tumor.
Anthracycline (ex, Doxorubicin) therapy can lead to Heart Failure.
Pulmonary fibrosis can occur from lung radiotherapy.
Secondary malignant neoplasms can develop:

Sarcomas of bone and soft-tissue
Breast cancer
Lymphoma
Melanoma
Wilms' Tumor: Initial Evaluation
Abdominal Ultrasound is the 1st imaging modality. [Servaes, 2019; Szychot, 2014]

Characterizes the mass.
Defines the location and extent of involvement (both kidneys?).
Determines whether vascular invasion or clot formation is present.
Checks liver for metastases.
CT and/or MRI of the abdomen [Servaes, 2019; Szychot, 2014]

Both are considered reasonable to use to further evaluate once renal tumor is detected.
MRI may be preferred if both kidneys are involved.
Chest imaging. [Servaes, 2019; Szychot, 2014]

The lungs are a common site of metastatic spread.
10 – 20% will have lung involvement at time of diagnosis.
CXR is usually the initial study performed in the ED.
CT will often be done as well.
Moral of the Morsel
The Bath – a great place for parents to detect pathology!
It isn't constipation. A painless abdominal mass in a previously healthy child can be the presentation of Wilms' tumor.
Check the Ultrasound! But, don't forget about the lungs!
References