Benign Acute Childhood Myositis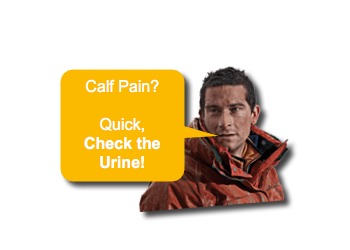 Previously, we have discussed the potential counterproductive effects of saying the phrase "It's just a virus." Aside from the perception that their child's illness is "no big deal," this phrase is also inaccurate as it implies that viral illness is not significant. Certainly, we know that viral infections can have significant negative affects on organs  (ie, Myocarditis, Pericarditis, Mumps, Guillain-Barre Syndrome, Aplastic Anemia).  Fortunately, many times viral induced illness is self-limited and does resolve without long-term consequences to any organ systems. One such condition may initially make you worry about the kidneys (Rhabdomyolysis), but typically subsides without lasting injury. Let us take a minute to familiarize ourselves with Benign Acute Childhood Myositis:
Benign Acute Childhood Myositis: Basics
Exact incidence is not known (often referred to as various other names)

Influenza-associated myositis
Viral Myositis
Acute Myositis
Inflammatory process that leads to isolated skeletal muscle degeneration.
Transient and self-limited syndrome
Can be seen within an epidemic. [Mall, 2011]
Associated with viral infections:

Influenza B [Mall, 2011; Sonmez, 2004]
Influenza A
Enterovirus
Adenovirus
Parainfluenza
Nonspecific viral infections
Mycoplasma pneumoniae
Most commonly affects:

Children 6-8 years of age [Mall, 2011]
Boys more often than girls [Mall, 2011]
Typical course of the illness is benign without lasting consequences. [Rosenberg, 2016; Mall, 2011]

Largest series of cases found no manifestations of myoglobinuria or rhabdomyolysis.

When it does occur, it tends to occur more often in females.
Higher CPK levels should still warrant concern.

All of these cases recovered without residual weakness or pain.
Typically resolves within a week.
Benign Acute Childhood Myositis: Presentation
Symptoms usually occur during early convalescent period of a viral illness. [Rosenberg, 2016]
Symptoms include:

Bilateral calf pain

Often severe and symmetrical
More focal than the diffuse myalgias seen with influenza [Mall, 2011]
May have a tip-toe gait

Refusal to walk / bear weight

Consider this as a cause of Limp or Refusal to Walk along with:

Toxic Synovitis
Juvenile Idiopathic arthritis
Juvenile Dematomyositis
Muscular Dystrophy
Fractures
Deep Vein Thrombosis
Acute Cerebellar Ataxia

Not related to actual weakness
Clinical diagnosis can be made in the setting of: [Rosenberg, 2016; Sonmez, 2004]

History of recent illness (especially an influenza-like illness)
Calf tenderness
Normal strength and power
Intact tendon reflexes
Elevated CPK
Benign Acute Childhood Myositis: Treatment
Fluids, Fluids, Fluids (orally or IV)

For those with CPK < 3,000 and able to maintain oral hydration, outpatient management may be appropriate with close follow-up.
Acute kidney injury is more likely in the setting of dehydration.

Pain management

With potential concern for kidney injury, NSAIDs may not be the best option.

Close Follow-up

Repeat CPK levels to ensure improvement is appropriate.
Repeat exam to ensure no evolution of actual weakness, decrease reflexes, etc.
Those with marked elevated CPK levels, likely benefit from hospitalization to ensure adequate monitoring and hydration.
Moral of the Morsel
It's never "Just a Virus." Viral illness can lead to significant problems.
Check the Urine! Even if it fits this benign condition, think about rhabdomyolysis.
Don't be complacent with Calf Pain. Keep myositis on your Ddx of calf pain, particularly during influenza-season.
References