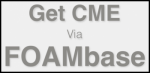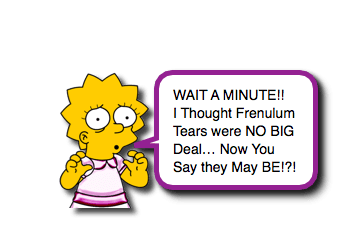 Have you ever been told that something "isn't a big deal" only to later find out that it was? Of course, any one who is in a significant relationship with another person has experienced this phenomenon. I, myself, may be at fault (once in a blue moon). Often, when I evaluate intra-oral injuries I will tell families that the mouth heals very well and seldom requires primary repair (ex, Tongue Lacerations). Naturally, there are other intra-oral injuries that do warrant more contemplation and concern (ex, Tonsillar Injuries). A lip frenulum tear, however, is "no big deal." Right? Well… let us just remain vigilant.
Frenulum Tear
The upper lip has the Superior Labial Frenulum and lower lip has the Inferior Labial Frenulum.

Also referred to as a Frenum.
These are folds of mucous membrane that are midline and extend from the gingiva to the lips.

They can be easily torn when the mouth is hit or the lip is pulled/stretched.
Often bleeds "a lot" (as many injuries to the face/mouth do), but usually will spontaneously stop bleeding.
Frenulum Tear: Management
This is easy… management is reassurance that it will heal fine on its own! 🙂

Let families know that they may bleed intermittently if people keep pulling open the lip to see the injury.
Simple pressure on outside of lip usually is enough to stop bleeding.
May want to advocate for a soft mechanical diet for a few days to help avoid reopening the wound with sharp crackers and chips (the typical diet of most American kids).
Does not typically require specific closure or intervention.

Heals well on its own without primary closure.
If the tear is more than the frenulum, extending to the surrounding gingiva, repair may be necessary – be sure to use absorbable sutures!
Frenulum Tear: It is Trauma!
Ok, so the previous statement was a bit cavalier… there is obvious trauma to the mouth… so, let us remain vigilant and be sure to consider other injuries.
Evaluate head to toe and look for other injuries, like:
Unfortunately, another consideration needs to cross your mind: Non-Accidental Trauma / Abuse.

A frenulum tear is NOT pathognomonic for abuse, but intra-oral injuries are seen in a significant number of abuse cases. [Maguire, 2007]
The history, obviously, plays an important role in helping to raise concern for abuse.

Knowing the developmental milestones can help determine whether an reported cause of injury would be reasonable.

A 2 month old would not have caused her/his own frenulum tear by falling.
An 18 month old may have fallen an hit the lips on a table edge.
Non-ambulatory children with facial injuries should raise your level of concern for abuse. [Starr, 2015; Thackeray, 2007]

The most frequently reported abusive injury to the mouth is injury to the lips, but a frenulum tear in isolation does not equate to abuse. [Maguire, 2007; Thackeray, 2007]

Several abusive mechanisms have been proposed to cause a frenulum tear: [Maguire, 2007]

Forceful feeding
Forceful placement of a pacifier
Gagging
Gripping or stretching of the lip
Vigorous rubbing of the lip
Direct forceful blow to lip
Moral of the Morsel
A frenulum tear can be managed with simple, non-surgical interventions.
A frenulum tear is intra-oral trauma. Remain vigilant and evaluate for other trauma.
Undress the child and look for other trauma. I know it is tempting to just look in the mouth… but be thorough and look for other signs of non-accidental trauma.
A frenulum tear is not pathognomonic for abuse, but make sure the story and developmental milestones make sense.
References