Post-Streptococcal Glomerulonephritis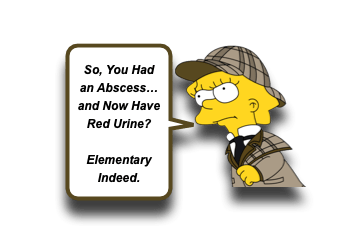 Often our clinical role is similar to that of a detective. We carefully search a patient's history and physical exam to discover the obscure clues that help us to provide excellent care. Is that pyoderma gangrenosum? We need to consider inflammatory bowel disease. 5 Days of fever? Hmmm… let's look for those Kawasaki Disease clues. Sometimes, common conditions can lead to more rare ones and it takes our detective skills to put all of the clues together. Let's review one such illness- Post-Streptococcal Glomerulonephritis:
Post-Streptococcal Glomerulonephritis: Basics
Post-Streptococcal Glomerulonephritis (PSGN) is a complication of Strep infections.

Rheumatic Heart Disease and Peritonsillar Abscesses (and don't forget PANDAS) get more notoriety, but PSGN needs our attention too.
Most often Group A Strep infection, but cases have been linked to other strains of Strep (Strep zooepidemicus). [Demuynck, 2013; Marshall, 2011]
Often thought of being related to Strep Pharyngitis, but can also be related to impetigo or other strep skin infections (ex, abscess).

Has been associated with skin infection following Scabies. [Marshall, 2011]
Often associated with pharyngitis in colder climates and skin infection in warmer climates. [Demuynck, 2013]
PSGN is an immune-mediated reaction.

The specific M protein (emm types) serotypes of Strep pyogenes activate a pathway of complement. [Demuynck, 2013]
Antigens are deposited on the glomerular membrane. [Worthing, 2019]
Strep is more common in children than adults, but can occur in both.

Incidence has dropped in developed countries, but it is not extinct. [Demuynck, 2013; Marshall, 2011]
Now incidence rates are highest in under-developed regions and in certain populations, like Indigenous Australians. [Worthing, 2019; Marshall, 2011]

Exposure to overcrowding and inadequate sanitation seem to be important risk factors.
Poor access to healthcare is also a factor. [Worthing, 2019]
Post-Strep Glomerulonephritis: Evaluation
The classic presentation is a nephritic syndrome with acute renal failure. [Demuynck, 2013]

Urinalysis can show:

Dysmorphic RBCs
Red Cell Casts
Leukocytes
Proteinuria

Elevated serum creatinine levels are often seen at presentation.

Patients with glomerulonephritis may present in a variety of manners, but may have: [Demuynck, 2013]

Hypervolemia and Edema – especially of the periorbital / facial region and hands/feet.
Decreased urination
Vomiting

Malaise

Anorexia
Strep infection may not be apparent upon presentation.

Usually develops ~1.5 weeks after pharyngitis and ~3 weeks after skin infection.
Ask about recent skin and throat infections.
Check AntiStreptolysin O (ASO) titers.
Additional labs to consider:

Bun/Cr
Hemoglobin and platelet counts
Complement 3 (C3) level
Management: [Demuynck, 2013]

Treatment focuses primarily on symptom management.

Limit salt and water intake.
Loop Diuretics are commonly used for fluid management and blood pressure management.

Penicillin is often given to treat possible residual strep infection, but the strep infection is not "in the kidneys."
May require renal replacement (hemodialysis) management in severe cases.
Outcomes:

Prognosis for acute PSGN is good as most cases resolve completely. [Demuynck, 2013; Marshall, 2011]
There is debate about long-term association with chronic renal impairment and failure. [Demuynck, 2013]
Moral of the Morsel
Simple things can become complex. It is important to consider what we are seeing in the ED as only a chapter in the story of the illness.
Periorbital edema requires some thoughtful consideration. It isn't always allergies.
Don't just ask about the throat. While PSGN is associated with pharyngitis, it can also be related to skin infections!
References