Proximal Humerus Fractures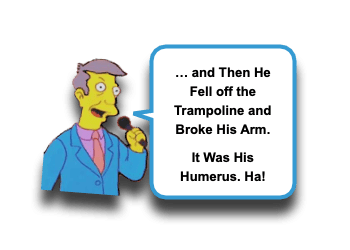 Ok, so I know that broken bones are nothing to laugh about, but in children the fracture of the proximal humerus gets no respect. We always talk about the Supracondylar Fracture or Scaphoid Fracture or wax philosophic about the utility of the Salter-Harris Classifications. Honestly, Pediatric Orthopedic issues are abundant in our EDs … which makes sense since the term "orthopedics" refers to "straightening" of the "child" (for those fans of etymology). While not all of these injuries are due to Trampolines (which are placed on this Earth by demons), one that could be from the high forces generated by trampolines does deserve our respect. Let's look at the Proximal Humerus Fracture in Children:
Proximal Humerus Fractures: Basics
Proximal Humerus fractures account for ~2% of all pediatric fractures.
Mechanisms of Injury: [Popkin, 2015]

Birth-related

Noted within the 1st week of life.

May present with subtle irritability.
May present with refusal to move arm.
Typically heals with 2-3 weeks of immobilization (safety pin used to attach long shirt sleeve to shirt).
Other conditions to consider on the Ddx list: brachial plexus injury, clavicle fracture, osteomyelitis, septic shoulder joint.

Less common than clavicle fractures.
Classically are physeal separations / Salter-Harris type I injuries.
So, while fractures in non-weight bearing children should alert you to possible abuse / NAT, a proximal humerus fractures noted in the right setting, may be related to delivery.

Fragility / Structural – related
Direct Trauma – related

Fall directly onto the shoulder
Impact to the posterior shoulder
Fall Onto Outstretched Hand with arm abducted and externally rotated
Often considered to be a moderate force/energy impact.

Football, hockey, gymnastics
Fall from Horseback

Overuse Injury – related

Little League Shoulder – fracture through growth plate due to repetitive micro-trauma.
Avulsion fracture of the lesser tuberosity from incomplete traction injury (ex, "Fly Fisherman" injury).

Abuse – related

A proximal humerus fracture may be related to NAT, especially in younger children (<2 years).
Humeral fractures are commonly seen in cases of NAT.
There is no pathognomonic fracture pattern of the proximal humerus known to be associated with NAT though.
Complications of proximal humerus fractures include: [Popkin, 2015]

Malunion
Nonunion
Nerve and / or vascular injury
Post-operative complication
Proximal Humerus Fractures: Anatomy
The proximal humeral physis is responsible for ~80% of the longitudinal growth of the humerus. [Popkin, 2015]

Final union between humeral head and shaft occurs between 16 and 19 years of age.
High growth activity allows for significant remodeling in pediatric patients.
The remodeling and growth potential is greater in the younger patients.
Axillary artery and the anterior and posterior circumflex arteries off of it supply the proximal humerus. [Popkin, 2015]
Axillary nerve is closely located to the proximal humerus. [Popkin, 2015]

Fractures and dislocations can endanger it.
Check sensation over the lateral shoulder!
Proximal Humerus Fractures: Management
Imaging: [Popkin, 2015]

Should include AP, scapula Y, and axillary views if possible.
Comparison views of unaffected side can prove to be helpful.
Axillary views may be difficult to obtain, so Velpeau axillary view can be used.
CT/MRI advanced imaging is rarely needed, but helpful with complicated fractures or ones related to structural anomalies (ex, bone cysts).
Classification of Proximal Humerus Fractures: [Popkin, 2015]

The Neer and Horowitz Classification is most often used.

Grade I = < 5 mm displacement
Grade II = < 1/3 of the shaft width displacement
Grade III = 2/3 of the shaft width displacement
Grade IV = > 2/3 of the shaft width displacement

Salter-Harris Classifications also apply.
Majority of these injuries are managed without surgery. [Popkin, 2015]

Great remodeling potential of this region assists with this.
Grade I/II are treated with immobilization for 3 – 4 weeks.

Hanging arm casts
Slings and swathes
Velpeau bandages

Grade III/IV

There is controversy over management of these.
There are no strict criteria to define those who require surgery over immobilization.
Currently recommended to be tailored to the individual patient based on:

Sex
Skeletal maturity and age (<10 years, 10 – 13 years, > 13 years)

Nonsurgical treatment favored in the younger patients

Amount of displacement and angulation
Surgery would be warranted for fractures associated with:

Polytrauma
Neuro-vascular injury
Open Fractures
Moral of the Morsel
Proximal side grows! The management of proximal humerus fractures is most often non-operative due to the superior growth and remodeling potential.
Check the lateral shoulder sensation! Axillary nerve distribution.
Can occur in neonates during birth… but. Always keep NAT on your list of things to consider when managing a child with a broken bone.
References