Cavernous Sinus Thrombosis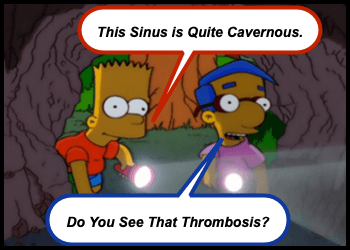 I was always taught to have a very healthy respect for infections of the Hands, Feet, or Face. Certainly, the infection itself can be problematic (tenosynovitis, plantar puncture, sinusitis, otitis media), but those particular areas have lots of very delicate and important structures in extremely close proximity… and that combination can lead to significant complications. Fortunately, the potential complications are rarely encountered. Unfortunately, their rarity may make our consideration of them challenging (ex, Gradenigo's Syndrome). Let us maintain our reasonable vigilance and discuss another important complication – Cavernous Sinus Thrombosis:
Cavernous Sinus
The anatomy of the Cavernous Sinus is important to consider.

It is an irregular shaped space lined with endothelium.
It is on either side of the sella turcica.
It is lateral and superior to the sphenoid sinus.
It is immediately posterior to the optic chiasm.
Venous drainage is from the "Danger Triangle!" [Smith, 2015; Varshney, 2015]

Region from the corners of the mouth to the bridge of the nose and inclusive of the nose and maxilla.
Venous drainage from:

Superior and Inferior Ophthalmic Veins
Sphenoid and Middle Cerebral Veins
Facial Vein

Also drainage from frontal sinuses.
The connecting veins to and from the Cavernous Sinus lack valves so blood can flow in either direction… and thrombosis can migrate in both directions. [Varshney, 2015]
Cavernous Sinus Thrombosis
Cavernous Sinus Thrombosis is rare, but life-threatening. [Smith, 2015; Frank, 2015]

Frequency has been reduced since high utilization of antibiotics.
Mortality has been also reduced, but still exists and morbidity can be significant.
Usually a late complication of an infection of the central face. [Varshney, 2015]
Cavernous Sinus Thrombosis is an associated complication of:
Potential complications of Sinus Thrombosis include:

Injury to any of the structures contained within the Cavernous Sinus: [Smith, 2015]

CNs III, IV, V1, V2, VI
Internal carotid artery

Involvement in contiguous / adjacent structures: [Smith, 2015]

Thrombosis of ophthalmic vein
Retinal infarction
Prompt recognition is key to limiting complications! [Smith, 2015; Frank, 2015]

"Classic Presentation" = severe illness with high, fluctuating fevers in the setting of recent mid-face infection. [Varshney, 2015]
Common symptoms:

Severe Headache
Periorbital Swelling
Ptosis
Inability to Move Eyes
Pain / Numbness around midface and eyes
Vision Changes / Double Vision / Loss of Vision [Frank, 2015]
Seizures
High Fevers
Cavernous Sinus Thrombosis: Management
There is no current consensus guidelines for management of Cavernous Sinus Thrombosis. [Smith, 2015]
Imaging: [Smith, 2015; Frank, 2015]

Contrast-enhanced CT

Useful, but has radiation concerns.

Contrast-enhanced MRI [Rodriguez-Homs, 2019; Frank, 2015]

More difficult to come by in the ED.
Not MRV. MRV (venogram) has been found to miss some cases.
The slow turbulent flow may allow thrombus to be missed on MRV.
Therapy typically includes: [Smith, 2015; Varshney, 2015; Frank, 2015]

Antimicrobials

Empiric antibiotics (ex, Cephalosporin AND Metronidazole AND Vancomycin) should be initiated early.
Typical bacterial infections include:
Fungal infections (ex, Aspergillus, Rhizopus) have been shown to be important considerations in:

Immunocompromised patients
Diabetic patients
Patients on chronic steroids

Anticoagulation
Surgery

Functional Endoscopic Sinus Surgery has been advocated for, but not often required emergently.
Consultation with ENT early is important to help coordinate care for those who are not improving on antibiotics.
Moral of the Morsel
Remain Vigilant! It may be rare… but if there is a mid-face infection and High Fevers, Periorbital Edema, and/or Cranial Nerve abnormalities… think of Cavernous Sinus Thrombosis.
Abx STAT! Get the antimicrobial coverage started… and consider antifungals for at risk patients.
Consult ENT… but don't expect emergent surgery.
References