Eastern Equine Encephalitis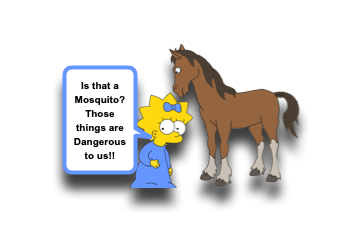 We have previously discussed how saying "It's JUST a virus," is not comforting to families and may undermine your credibility. For one, this phrase minimizes the family's concern… and secondly, viruses can be quite problematic (ex, Influenza, Varicella, HSV, Reye's Syndrome, EBV). Recently, while we have been wrestling with increasing numbers of vaccine-preventable illnesses caused by viruses (say hello to Measles and Mumps again), there has been an increase in cases of another potentially deadly virus. Let's remind ourselves of this devastating disease – Eastern Equine Encephalitis:
Eastern Equine Encephalitis: Basics
Eastern Equine Encephalitis Virus is an alphavirus transmitted by mosquitoes. [Lindsey, 2018]

Transmitted from infected birds via mosquitoes that are in freshwater or hardwood swamp environments.
These mosquitoes can transmit the infection to horses, llamas, and humans (and other mammals).
EEEV is not transmitted from humans to other humans or other species. [Lindsey, 2018]

Humans do not develop high enough viremic levels to allow feeding mosquito to obtain the EEE virus.
Humans are considered to be "dead-end-hosts."
EEEV cases occur sporadically, in small clusters, and also in larger outbreaks.
EEEV cases are typically seen along the Atlantic and Gulf coasts of the US.

States that account for the predominance of cases = North Carolina, New Hampshire, Massachusetts, Alabama, Louisiana, Georgia, and Florida. [Gaensbauer, 2014]
Outbreaks known to occur in Massachusetts about every 10-20 years.

Florida is an important source of transmission to other states. [Heberlein-Larson, 2019]
Cases typically occur from June to October. [Lindsey, 2018]
EEEV cases can affect any age, but the highest infection rates seen in: [Lindsey, 2018]

Children <5 years of age
Adults >70 years of age
Eastern Equine Encephalitis: The Illness
Most infected humans have NO APPARENT illness. [Lindsey, 2018]
Systemic symptoms include (similar to every other viral illness): [Lindsey, 2018]

Acute Fever
Chills
Malaise and Myalgias and Arthralgias
< 5% of infected patients develop meningitis / encephalitis. [Lindsey, 2018]

EEEV can cause one of the most severe forms of encephalitis in North America.
Fortunately, neuroinvasive disease is rare (average annual incidence = 0.04 cases per million children) [Gaensbauer, 2014]
Neuroinvasive disease presents with: [Lindsey, 2018]

Coma may develop within 1 week on mosquito bite.
MRI imaging of severely affected patients characteristically show early involvement of the basal ganglia and thalami, which distinguishes it from HSV encephalitis. [Deresiewicz, 1997]
Neuroinvasive disease results in: [Lindsey, 2018; Deresiewicz, 1997]

Lasting neurologic morbidity in 50% of cases
Fatality in 30% case
Eastern Equine Encephalitis: Management
There is no licensed vaccination available for humans (there is for horses). [Lindsey, 2018]
There is no clear effective treatment, but it focuses on supportive management: [Lindsey, 2018]

Anti-Seizure therapies
Aggressive management of intracranial hypertension. [Wendell, 2013]
High-dose steroid therapy has been used. [Wendell, 2013]
IVIG has been used. [Wendell, 2013]
Prevention is the best strategy! Reduce the risk of infection by:

Avoid being bitten by the bugs!

Avoid being outside between dusk and dawn.
Wear long sleeves and pants (less than ideal when it's summer).
Use mosquito repellent with DEET, Permethrin, Picaridin or Oil of Lemon Eucalyptus.

Don't use DEET products for infants < 2 months of age.

Avoid breeding more mosquitoes.

Any little puddle that lasts for more than 4 days is a breeding ground for these critters.
Remove standing water from around your home.
Moral of the Morsel
Viruses are nothing to sneeze at! EEEV can cause coma in a very rapid period of time. Fortunately, this is rare.
Prevention is the best strategy… as treatment is simply trying to prevent brain herniation! Get rid of standing water and avoid dusk!
References