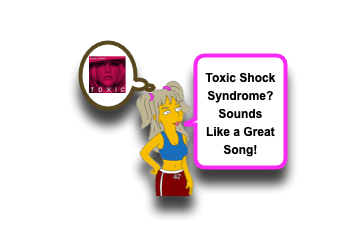 Caring for the child in shock is challenging! Vascular access has to be attained. Fluids have to be given quickly and Vasopressors may need to be started early! Certainly, the airway must be evaluated and, occasionally, secured. All of this occurs while we juggle the potential causes (ex, Sepsis, Hypovolemia, Obstructive processes, Cardiogenic, "K"ortisol). For children, the potential for an infectious etiology is always high, but this may warrant more consideration than "just give them all of the antibiotics we have!" Do not overlook the potential for bacterial TOXINS causing more problems for the patient! Let's take a moment to review Toxic Shock Syndrome:
Toxic Shock Syndrome: Basics
Toxic Shock Syndrome (TSS) is: [Javouhey, 2018]

Severe, acute illness

May begin with non-specific symptoms (GI particularly). [Javouhey, 2018; Rodriguez-Nunez, 2011]
Rapid clinical deterioration follows.

Characterized by:

High Fever
Hypotension
Rash (ex, erythroderma, scartletiniform, intertrigo)
Multi-Organ System Dysfunction (ex, Altered Mental Status, Renal dysfunction)
Desquamation (during convalescence)
TSS is difficult to diagnose as the characteristics may be transient, absent, or delayed in presentation. [Javouhey, 2018]

Often not initially recognized. [Javouhey, 2018; Deniskin, 2018; Rodriguez-Nunez, 2011]
Clindamycin (part of recommended therapy) was not given as part of initial therapy in a substantial portion of cases of TSS. [Gaensbauer, 2018; Deniskin, 2018; Rodriguez-Nunez, 2011]
TSS is caused by SUPERantigen ExoTOXINS. [Javouhey, 2018]

Superantigens directly stimulate T cells

They do not need to be processed by antigen-presenting cells.
Superantigens lead to massive polyclonal cell proliferation!

Superantigens can be produced by both Staph and Strep.
Superantigens are very potent.
TSS should be considered in critically ill children with:

Erythroderma
Conjunctival Hyperemia
Strawberry tongue
Known nidus of infection (ex, tampon, nasal / wound packing)
TSS may look very similar many other conditions like:

Septic Shock
Drug Reaction w/ Eosinophilia and Systemic Symptoms (DRESS) Syndrome
TSS can be caused by Staphylococcus or Streptococcus.

Staphylococcus is the most common etiology of TSS. [Gaensbauer, 2018; Javouhey, 2018]

Staph TSS more frequently occurs in older, female patients associated with menstruation.
Staph TSS does, however, also occur in males and other aged children.

Streptococcal TSS is less common overall, but: [Gaensbauer, 2018; Javouhey, 2018]

Strep TSS is more common in younger children (~47% of patients < 2 years of age)
Strep TSS is more clinically severe.
TSS associated with para-pneumonic empyema is suggestive of strep etiology.
Other risk factors for Strep TSS include: [Rodriguez-Nunez, 2011]

Previous surgery
Skin Wounds
Trauma
Recent Viral Infection (ex, Varicella Zoster, Influenza) [Rodriguez-Nunez, 2011]
NSAID use
Premature birth
Congenital heart disease
Immune Suppression
Toxic Shock Syndrome: Management
Rapid recognition and initiation of treatment of Septic Shock is critical to helping to support good outcomes. [Gaensbauer, 2018]

Recognition of shock is challenging in children – Assess Cap Refill!
Rapid diagnostic testing can be helpful (although an elevated Lactate can be from other conditions).
Aggressively volume resuscitate!
"Timely" initiation of broad spectrum antibiotics (many protocols call from them to be given within the 1st 60 min).
Toxic Shock Syndrome was estimated in ~11% of all septic shock cases. [Gaensbauer, 2018]
In addition to the above, optimal treatment of Toxic Shock Syndrome should include: [Gaensbauer, 2018; Javouhey, 2018]

Elimination of any nidus of toxin-producing staph or strep

Removal of foreign bodies (ex, tampons, nasal packing)
Surgical drainage of abscess / deep space infection

Reduction of toxin production / exposure

Antibiotics like Clindamycin, Rifampin, or Linezolid interfere with exotoxin production. [Javouhey, 2018]
Some data support use of IVIG to neutralize the Superantigens. [Javouhey, 2018]
It is important to ensure that Clindamycin (or another exotoxin production inhibitor) is added to your broad-spectrum antibiotics selected based on your regional antibiogram. [Rodriguez-Nunez, 2011]
Moral of the Morsel
Some bugs are really vicious! The weapons that Staph and Strep possess are quite impressive and aggressive!
Keep Toxic Shock Syndrome on your list! You may be correct in diagnosing that cause of the shock is infection, but don't overlook the possible circulating bacterial exotoxins!
Fight the Toxins! Add Clindamycin to your protocoled antibiotic selections.
References