Urinary Retention in Kids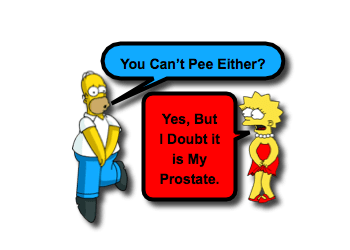 Once again the Ped EM Morsels will address a topic that accentuates the fact that children are not aliens to be feared, but rather a special population of humans. Yes, children can be afflicted with conditions traditionally considered in adults (ex, Pulmonary Embolism, A-Fib, and Kidney Stones), but kids will often have different risk factors and associated conditions. Another entity that fits this description I encountered just this week. Let's take a minute to review (what I had to review) on Urinary Retention in Kids:
Urinary Retention: Basics
Urinary retention is uncommon in children.
It is defined as a volume of retained urine > expected bladder capacity

Estimated Bladder Capacity in Ounces = Age in years + 2 [Gatti, 2001; Peter, 1993]

Remember Fluid Ounce = ~ 30 mL

Not defined by duration from last urination
Child may present with:

Dribbling or urine
Weak stream
Unable to initiate bladder emptying
Abdominal pain
Palpable abdominal mass (bladder above pubic bone)
Urinary Retention: Causes in Kids
Infection

One of the most common causes [Peter, 1993]
Examples: Cystitis, Pyelonephritis
Systemic viral illnesses also implicated (ex, adenovirus, EBV) [Chu, 2013; Gatti, 2001]

Neuromuscular Dysfunction

Are a prevalent cause in children. [Gatti, 2001]
Acute Disseminated Encephalitis (ADEM) [Burla, 2016]

Presents with paresthesias, paralysis, ataxia, vision changes, and/or altered mental status.
Often preceded by viral illness or vaccine administration.

Other examples: Guillain-Barre Syndrome, Multiple Sclerosis, Transverse Myelitis, Spina Bifida, Tethered cord [Burla, 2016; Gatti, 2001; Peter, 1993]

Congenital Obstructive Lesions

Examples: Posterior urethral valves, Polyps [Peter, 1993]

Constipation

Yup… that is a lot of stool!
Thought to be due to marked elevation of the bladder floor and posterior urethra by the distended rectum. [Gatti, 2001; Peter, 1993]

Medications

Adverse drug effects are very commonly implicated. [Gatti, 2001]
ex, Cold medications, antihistamines, neuroleptics, alpha-adrenergic agonists

Postoperative
Misc.

Hypermagnesemia (newborn exposed to maternal Magnesium)
Voluntary overdistention [Peter, 1993]

Potty training may lead to avoiding urination, leading to increased bladder volume.
Stretching of the bladder beyond its normal capacity impairs its elastic properties and can hinder voiding.

Pelvic masses [Binder, 2015; Gatti, 2001]
Local inflammatory processes [Gatti, 2001]

Meatal stenosis, balanoposthitis, labial adhesions

Peri-apendiceal Abscess [Parrish, 1993]
Incarcerated inguinal hernia [Gatti, 2001]
See Table 1 below, courtesy of Binder et al., 2015
Urinary Retention: Management
Drain the bladder!

If the belief is that the cause is temporary (ex, constipation, voluntary overdistention), then may consider in-and-out cath to decompress bladder.
If unsure, or concern for other neurologic condition, place foley.
If not using a foley, patient will need to demonstrate ability to void on her/his own before discharge.
Children with UTIs may be instructed to soak in bath of warm water to help with urination (obviously, this is at their home… not your ED).

Check for infection!

This is a prevalent cause, so don't overlook UTI.
At the same time, don't be too eager to diagnose UTI and overlook other more ominous signs.

Perform a thorough Neuro Exam!

Of greatest concern – is there a spinal cord or other neurologic condition that is the cause?
Inspect the back carefully… look for evidence of occult spinal abnormalities.
If a clear reason is not obvious, have a low threshold for considering spinal imaging. [Gatti, 2001]

What's the Anatomy?

Even those who have a UTI, may have it because of an anatomic abnormality.
Consider Ultrasound:

Evaluate for hydronephrosis
Evaluate for masses
If not getting U/S in ED, ensure follow-up to consider imaging.
Moral of the Morsel
It may be rare, but it does happen. As always, remain vigilant.
Urinary retention is ominous. Don't simply send the child home with a foley and a leg bag like you may do for the old gentleman with prostate problems.
Ddx of Urinary Retention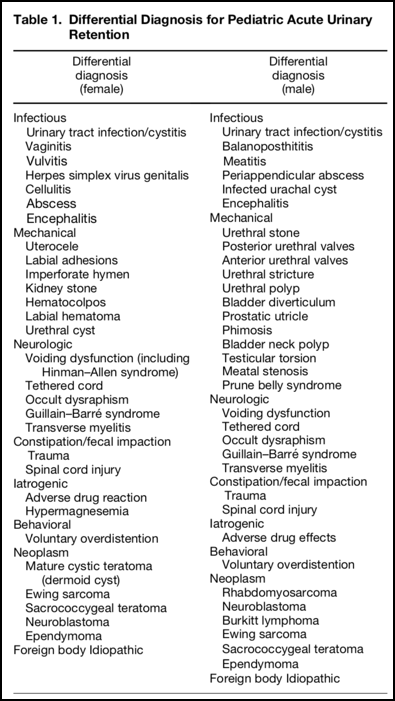 [Binder, 2015]
References