National Injury Prevention Day!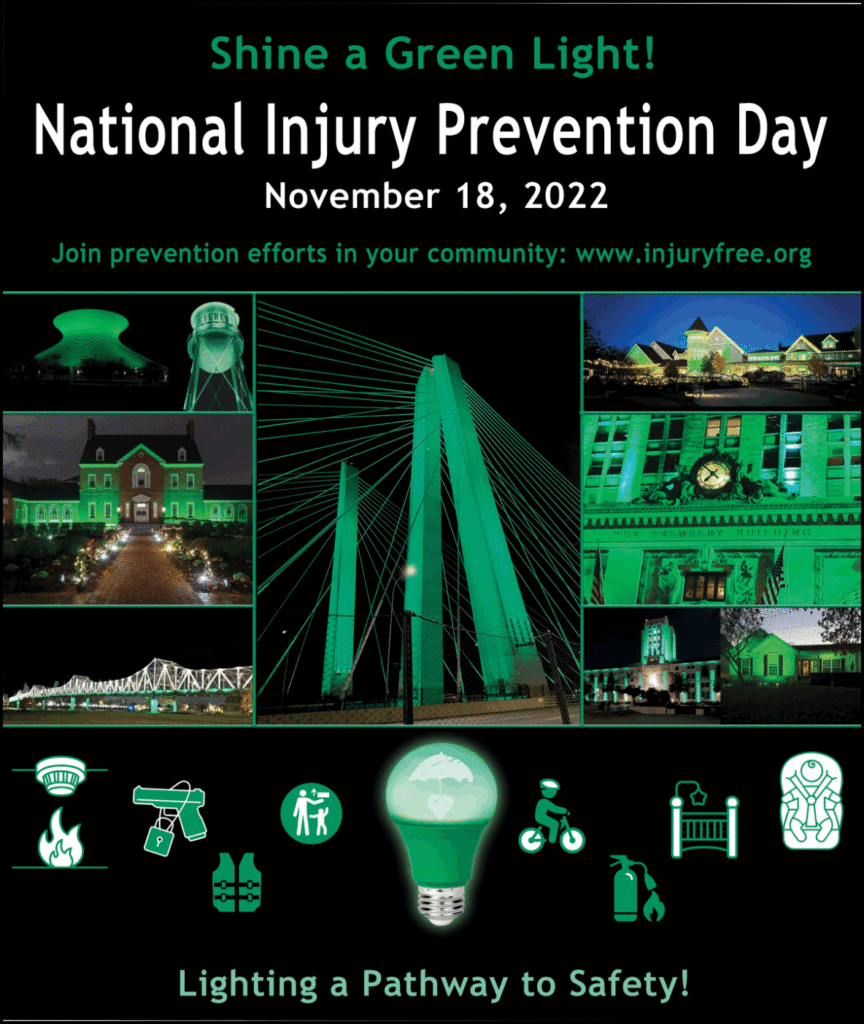 Unintentional injuries are the leading cause of morbidity and mortality in children of all ages. While we in Emergency Departments strive to detect injuries and help start the healing process, it is also critically important that we assist with preventing those injuries from occurring in the first place. We can assist in helping to prevent injuries in several ways. First of all, the anticipatory guidance that we give to our patients is very impactful while they are in our EDs! We can also get involved with the good works that are going on in our communities by our colleagues! For instance, Dr. Maneesha Agarwal (@tarhealer), a fantastic PEM provider in Atlanta (who reminds me of how old I am as she was once one of our PEM Fellows back in da day) reminded me of an important way that we all can spread the importance of Injury Prevention. November 18th is NATIONAL INJURY PREVENTION DAY! In honor of this important day, please take a minute to check out www.injuryfree.org and… you can even join in the conversation – #BelnjuryFree! While you are pondering this, let's take a minute to highlight some of the prior Morsels that have dealt with some Injury Prevention topics:
Smoke Inhalation
Firearm Safety
It is reasonable to ask about the presence of firearms when dealing with patients who are presenting to your Emergency Department for:

Injury suffered from a violent act / assault
Psychiatric complaint (ex, depressive symptoms, suicidal ideation)
Submersions / Water-Related
Supervision is the key to submersion injury prevention.

Children <1 year are most likely to drown in a bath tub!
Children 1-4 years are most likely to drown in a swimming pool.
Older children and adults are most likely to drown in natural bodies of water.

For infants and toddlers, the supervisor should really be touching that child at all times while in and near the water.
Moving Vehicles and Safety Devices
We all know that cars and bikes are a leading cause of injuries in patients of all ages.
It is important to also remember that some of the safety devices can prove to be hazardous when not used correctly.
Current recommendations are:

0 – 1 year: Rear-Facing Car Seat
1 – 3 years: Keep Rear-Facing as long as possible. Once the child outgrows the height and weight limits for the rear-facing car seat, use forward-facing car seat with 5 point harness and tether to keep top of car seat stationary.
4 – 7 years: Forward-Facing car seat with 5 point harness and tether. Should remain in this seat until reaches maximum limit for height and weight. Some small 7 year olds will remain in car seat longer than large 6 year olds.
8 – 12 years: Need to be in Booster Seat until big enough to have seat belt fit properly [lap belt lies snugly across the upper thighs/pelvis (not stomach) and shoulder belt is across chest not the neck]. The feet should reach the floor to prevent the child from sliding forward, under the lap belt during a collision. 
Older than 12 years: The rear seat is still considered the safest. If sitting in the front passenger seat, should be heavy enough to have the car's airbag system engage appropriately (most new cars have weight restrictions). When sitting in the front seat, teenagers should still move the seat as far away from the dash as possible.
Poisoning
Kids explore their environment in a variety of ways… including putting random things in their mouths.
Self-Harm and Suicide
Suicide is the leading cause of death from intentional injury.
Suicide affects young people from ALL races and socioeconomic groups.
There are several screening tools available:

HEADS-ED 

Home, Education, Activities, Drugs, Emotions, Discharge resources

Risk of Suicide Questionnaire (RSQ) 

4 questions:

Are you here today because you tried to hurt yourself?
In the past week, have you been having thoughts about killing yourself?
Have you ever tried to hurt yourself in the past (other than this time)?
Has something very stressful happened to you in the past few weeks (a situation very hard to handle?
References