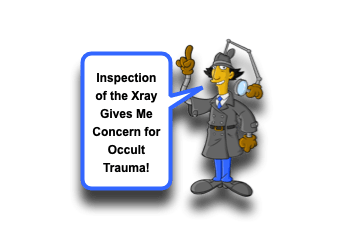 We are well aware that children seem like to test Gravity daily and that some days Gravity wins! This leads to numerous injuries and fractures (ex, Supracondylar, Hand, Finger, Face, Toddler's). Unfortunately, pediatric trauma involves more than just Gravity (ex, Non-accidental Trauma) and, as we are accustomed to when dealing with children, some significant injuries can be easily missed. Vigilance for signs of more ominous injuries is paramount. Let us review one injury that should make you ponder more than the injury itself – Scapula Fracture:
Scapular Fractures in Children
Scapular fractures are rare in pediatric patients. [Shannon, 2019; Park, 2017]

Only 3-5% of all shoulder related fractures.
Anatomy matters:

Children, generally, have more compliant bones.
Scapula has a thick periosteum (especially in children).
Scapula is surrounded by dense muscles

Has 17 muscular attachments.
Only the dorsal aspect of the spine and acromion are not covered by muscle.
Muscles can act like cushions.
Takes a lot of energy to fracture a scapula!

Similar to rib fractures and pelvic fractures in children, scapular fractures are rare and can be indication of a substantial force being applied.
Like with adults, scapular fractures are associated with high-energy mechanisms.
Associated with higher Injury Severity Scores [Shannon, 2019]
Often associated with other concurrent injuries. [Shannon, 2019; Abd el-shafy, 2018; Park, 2017]
Not all Scapular Fractures require Car Accidents! [Neral, 2018]

They can also occur due to sporting "mis-adventures."
Scapular body fractures occur from muscle contraction against a resistant force during contact sports.
Unlike the other mechanisms, these involve LOW-energy and are NOT associated with additionally injuries. [Neral, 2018]
Some may even be classified as "fatigue fractures." [Neral, 2018]
Conservative treatment is very successful.
Scapular Fracture: Management
Majority of pediatric scapular fractures involve the scapula body. [Shannon, 2019]

Intra-articular involvement is rare.
Less likely, compared to adults, to involve the humeral head. [Shannon, 2019]

Scapular Neck, Glenoid, and Acromion occur less commonly.
Scapular Neck Fractures are second most common.
The majority of scapula fractures are treated without surgery. [Neral, 2018; Park, 2017]

Short term of immobilization with Sling or Sling and Swathe
Early progressive Range of Motion exercises
Most fractures heal within 6 weeks.
Surgical Treatment Considerations [Neral, 2018; Park, 2017]

Open fractures
Associated with Neurovascular compromise
Intra-articular fractures (ex, Glenoid fractures with Humeral Head Instability)
Acromion fractures that impinge into subacromial space (may impact function of rotator cuff)
Scapular Neck fractures with severe angulation
Coracoid fractures with AC separation
Scapular fractures with concurrent Clavicle fractures
Moral of the Morsel
It take a lot of force! The Scapula is cushioned and tough to break.
Scapular Fracture? Think about the Head, Chest, and Extremities! There may be a hiding concurrent injury.
Sports are not Car Crashes (in general). The scapular fracture may be isolated … but you should still remain mentally vigilant!
References