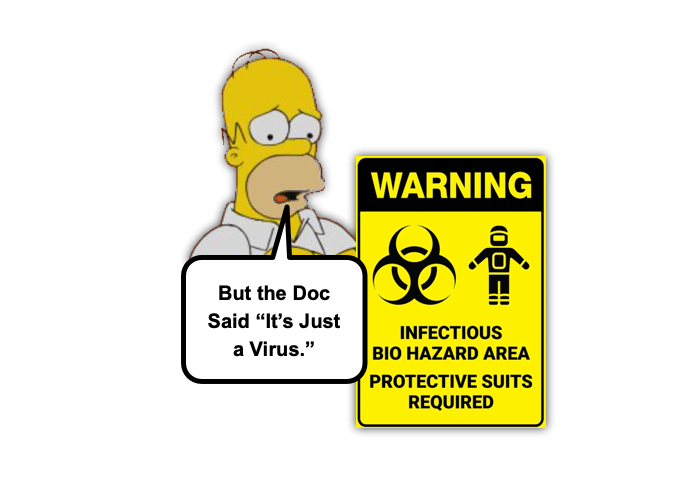 Having just receive both my 2nd COVID Booster and Flu Vaccinations I have been feeling pretty "immune-ready-for-the-world!" Then, one of my colleagues at Carolinas Medical Center / Levine Children's Hospital reminded me that there are many more viruses out there… and that they can also do a lot of harm (thank you Michelle Kerr, MPAS, PA-C, DFAAPA). We have previously discussed how the phrase "It's Just a Virus" needs to be removed from our lexicon, because it neither conveys empathy nor reassurance. We have many examples of substantial issues related to viral illness (ex, Guillain-Barre, Myocarditis, Mollaret Meningitis, Severe Hand-Foot-Mouth Disease, Myositis), but in the past few years another condition has started to garner attention. Let us digest a quick tasty morsel on Acute Flaccid Myelitis:
Acute Flaccid Myelitis: Basics
Definition of:
In 2014, the term "Acute Flaccid Myelitis" was coined and aimed to help characterize presentations that were similar to Polio, but without poliovirus being found. [Ayers, 2019]

Until the 1950's, Polio was a leading cause of Acute Flaccid Paralysis in the US.

Then… came… VACCINES in 1955!

In summer of 2014, there were several cases of Acute Flaccid Paralysis in Colorado. [Ayers, 2019]

Extensive testing did not reveal clear etiology, but…
Concurrent outbreak of Enterovirus EV-D68 was noted to be associated.

Subsequent outbreak occurrences peak in Late summer to Early Fall.
The Center for Disease Control defines Acute Flaccid Myelitis (AFM) as: [Vawter-Lee, 2021]

Acute Flaccid Limb Weakness with
Spinal Cord Lesions in the Gray Matter on MRI
There may be some white matter involvement.
Alternative diagnoses ruled-out.
Presentation of:
It starts like so many other stories… with a Viral Prodrome!

Upper respiratory and/or Gastrointestinal symptoms are common.
Symptoms often precede development of AFM by 1 to 2 weeks.
Weakness develops rapidly.

May be one or more extremities
Often more proximal weakness (so don't just check for grip strength!)
Loss of muscle tone and deep tendon reflexes can be seen (so… check DTRs!)
Other findings can also occur:

Pain in the affected extremity
Headache
Stiff neck
Cranial Nerves can be involved

Facial droop
Difficulty moving eyes
Difficulty swallowing
Slurred speech
Weak cry
Complications of:
Respiratory distress (can progress rapidly… so these children do not get discharged!)
Hemodynamic and Temperature instability and other Neurologic decompensation
Associated with:
Non-polio enteroviruses (EV-D68, EV-A71), Coxsackieviruses
Flaviviruses (West Nile virus, Japanese encephalitis virus)
Herpesviruses
Adenoviruses
Acute Flaccid Myelitis: Distinct from GBS?
Distinguishing between Acute Flaccid Myelitis (AFM) and Guillain-Barre-Syndrome (GBS) can be challenging. [Helfferich, 2021]
Both typically have: [Helfferich, 2021]

Rapidly progressive flaccid limb weakness
Decreased Deep Tendon Reflexes
A prodromal viral prodrome
Monophasic course
MRI with nerve root enhancement
While there is overlap in clinical presentation, there are distinguishing features: [Helfferich, 2021]

AFM may have:

Progression stops over days
Asymmetric weakness
No sensory symptoms
CSF pleocytosis
Spinal Cord and Brain Stem Lesions on MRI

GBS may have:

Progression continues for 1-2 weeks
Symmetric weakness
Sensory symptoms present (unless pure motor GBS)
Deymelinating polyneuropathy on EMG
Some cases will fulfill clinical and diagnostic criteria for both AFM and GBS. [Helfferich, 2021]
Acute Flaccid Myelitis: Evaluation & Management
THINK OF IT!

Obviously, in the ED, we may not get the final diagnosis determined, but we must consider it if the presentation warrants it.
Recent viral URI or GI symptoms should be inquired about.
Need to be monitored CLOSELY for progressive weakness and any respiratory difficulties.
Check DTRs and Strength!

I know… I know… we all just want to ultrasound or CT everything… but a physical exam can be useful too!
Don't overlook the Cranial Nerves also!
MRI is the imaging modality of choice. [Vawter-Lee, 2021]

Gray Matter lesions in the anterior horn (predominantly)
Some cases may have lesions noted in the brain as well.
Labs: [Vawter-Lee, 2021]

An Acute Flaccid Myelitis Protocol has been suggested and includes various labs that may prove to help eliminate other diagnoses.

May defer lab results until MRI findings are known, unless imaging is to be "delayed."

Blood

CBC, CMP
Arbovirus Panel (including West Nile antibodies)
Enterovirus PCR
Aquaporin-4 antibody
Anti-MOG antibody
1 tube to send to the CDC

CSF

Cell Count, Glucose, Protein, Culture
Oligoclonal bands, IgG index, Meaning-encephalitis panel (viral panel)
Aquaporin-4 antibody
1 extra mL for the CDC

Stool and Respiratory swabs
Lyme Disease, Cat Scratch, Rocky Mountain Spotted Fever evaluations also reasonable.
Call your Friendly Neighborhood Pediatric Neurologist! [Vawter-Lee, 2021]
REPORT TO THE CDC – click here for that.
Moral of the Morsel
Never say "It's Just a Virus." Viruses have always been able to do terrible things.
Do not be so quick to dismiss those "odd neuro complaints." Consider Acute Flaccid Myelitis and ask more questions.
Check those DTRs and Strength of all Muscle groups. Sometimes proximal muscle weakness may not be appreciated until you ask the child to get out of bed!
Impress your Neuro Friends with your knowledge of how to distinguish between AFM and GBS. Why? Because you are a BOSS!
References